Read this before you start.
Not all Omnik inverters and not all firmwares are supported. If your inverter does not have the option to use a "Remote server" or only "Server B", Omnikportal will unfortunately not work for you. Unfortunately, you will not find out until you have largely completed the installation process.
Create an account on this website, click
here
.
please use a valid email address; invalid accounts will be deleted within 24 hours;
validate your email address. No new message? Check your spam folder!
use a new browser window to stay logged in to omnikportal.net and leave this page to follow the whole tutorial.
For most users, this is the most difficult step; when it is actually quite simple.
A. If you have an Omnik1000tl (with display), watch the video below (
click here
);
B. For all (other) model(s) (with or without display) you have to login using the Wifi hotspot from your inverter.
Please follow this video how to login into your Omnik inverter:
click here
(watch untill 1:30). Please use subtitles if you are not Dutch.
There is also a website from Sungevity explaining how to login. Use this website from step 2 ("2. Make a connection") up to and including step 8.
click here
.
have you not installed your Omnik inverter before? OR does it show 0.0.0.0? Click here (or here for Dutch/Nederlands);
Still no luck? Find the Omnik inverter on your network (for experts): click here to read more. Our advice is Angry IP scanner, click here.

Username "admin" and password "admin" is not working? Please contact your installer: they probably changed the password.
Make sure you are still logged in (step 2). In your Omnik inverter find the inverter ID (sometimes called serial).
Please use a pc / latop because the admin panel of your Omnik inverter is not suitable for mobile devices;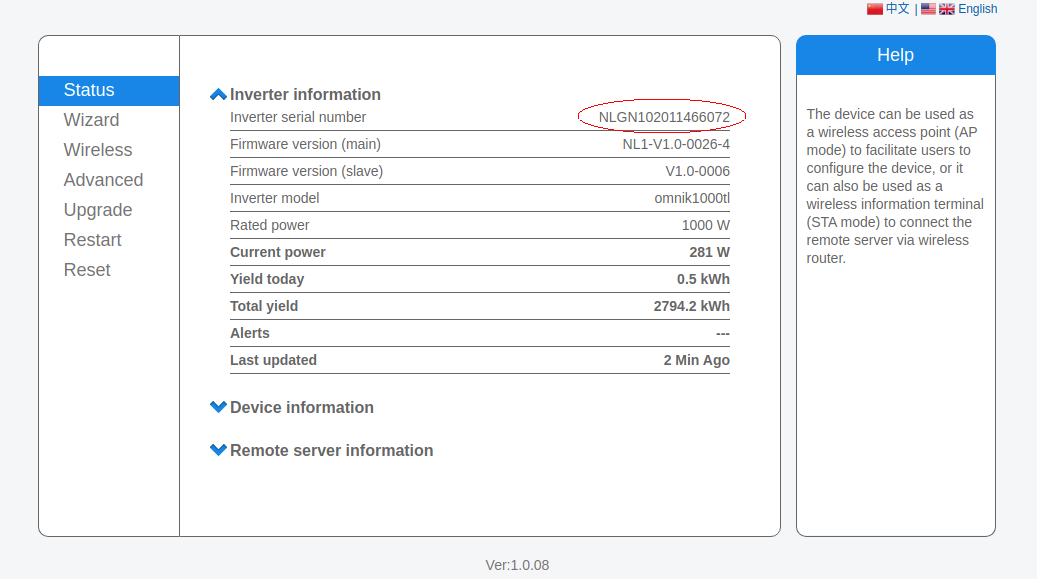 On the 'status' page (see above) you find your 'Inverter serial number'. Copy and paste this number in the dashboard from this Omnik Portal (see below).

login in your Omnik inverter and update remote server setting
Almost done now! On your PC / laptop go back to the tab where you are logged in in your Omnik inverter. Is your session lost or you closed the tab/browser? Go back to step 3 and read the login (first) part.
In the menu left go to "advanced" and "remote server".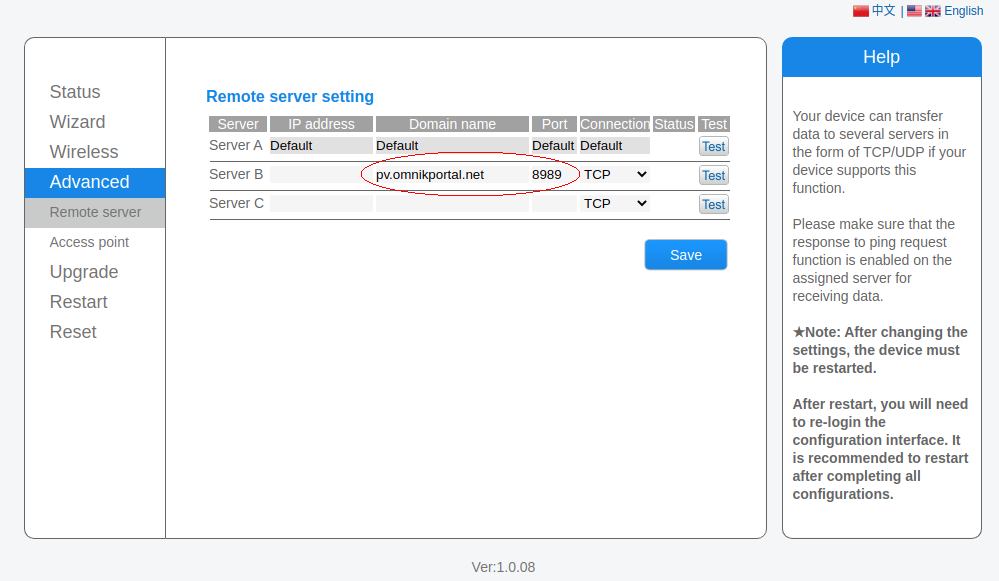 Does your inverter only have "server A" and no "Server B" and "Server C"?
Then unfortunately you cannot use our portal (for now)!
'Server A' is reserved for Omnik; that is why we use 'Server B' or if it is not available with you, use 'Server C'.
Enter it like this:
Domain name pv.omnikportal.net
Port 8989
Hit 'test' to test the new settings. This could take a few seconds
Hit 'save' to save the new settings. The inverter should reboot now
Now keep an eye on the omnikportal.net dashboard. If it is evening or night it can take up to 12 hours before the first results are visible!